Ghanian actress and YOLO star, Fella Makafui, who recently publicised about how heartbroken she was over discovering the death of her father, whom she had a rocky relationship with, might be set for another heartbreak.
According to reports, the relationship between the gorgeous actress and her rapper boyfriend Medikal might have taken a nasty turn that will soon lead to their eventual breakup.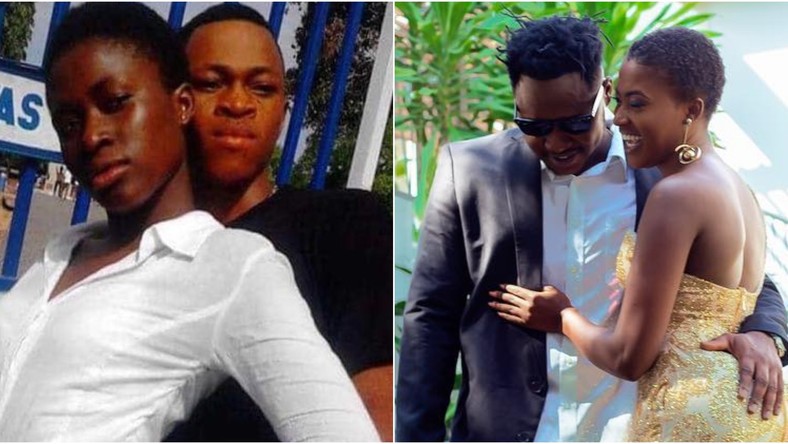 This might seem strange to some as Medikal has been the boyfriend that screams 'goals!!!'. Some time ago, days after the ex-sugar daddy of Ghanaian actress, Fella Makafui, humiliated her in public and collected the car he bought for her after she dumped him, her then new boyfriend, rapper Medikalhas bought her a new car.
Her ex-sugar daddy was said to have made the move after the actress shared a loved-up video of herself kissing the rapper. That was when heartthrob boyfriend took the cue and decided to surprise her with a brand new Audi car with the plate number customized in her name after the public disgrace
However the laws of the universe still stand and what goes around comes around. Popular opinion would say that this is payback for the time that Fella Makafui snatched Medikal from Sister Deborah whom he was dating.
Their relationship seems to be uncomfortable for Fella whom the report say has been faking happiness on social media but is really having her heart turn by the rapper. If the report is anything to go by, then it means Fella is about to have a taste of what she made Sister Deborah go through.
Read the report as posted on an Instagram blog those_called_celebs, " The girl is suffering oooo the things am hearing no…chai!! How long will u pretend for de gram?? Herrrr I love u paaaa… if u think de boy is tearing ur heart…. leave oooo …u can't come n kill urself cux of #thosecalledcelebs and her followers… tomorrow by dis time…u will snap pics to decieve the public meanwhile u dieing inside… no where cool ampa!! Go back for Alhaji cux mamaga still collect him na de girl is confused oooo… herrrrr evidence paaa nie!!"
Share your thoughts in the comment section below
Source: WithinNigeria.com