Popular journalist, Kemi Olunloyo has revealed that Davido's baby mama Amanda who is based in Atlanta is a convicted thief.
According to Kemi, she got the information from public records which also exposed her alleged real name to be Hermadine Samlan. She went on to reveal that Davido and Amanda have been secretly married, a thing she reported last year.
The post from Kemi is coming a day after Amanda took to Instagram to share lovely photos from her graduation from a US college.
Kemi Olunloyo shared:
"These are public records. Many of you don't know Davido's babymama's name. Ask more!! Investigative!! Her name is not AMANDA. It's Hermadine Samlan. If anything Hermadine Adeleke cos they secretly married as I reported last year. She was locked up for shoplifting in 2011 and was bonded out at $1305. I will protect the details of the arrest here. It's on YouTube. I don't understand how you follow celebrities and don't even know the last names of their partners.
"Davido and Hermadine met on Instagram in the DM. She is also known as #MamaHailey. Davido opened a nail salon for her in the Atlanta area."
She also shared an image of her mugshot…
View this post on Instagram
This morning I told you that Davido's THIRD BABYMAMA Hermadine A.Samlan aka Amanda Mama Hailey shoplifted in America years ago. It was to teach Chioma a lesson. Obviously nobody noticed. You sit near a man who hasn't empowered you after you dropped out of school. No Ring, no cooking show, just jetsetting all over the world doing nothing and living lies. No Porsche, you can't even drive Chioma. Hermadine graduated in Political science with a Bachelors degree, Davido opened a business for her and she's turned a new leaf. Chioma get YOUR PAPER. Do something for yourself and stop sleeping next to Tobechukwu. Ladies don't leave school for a man. Get your Education. #kemitalkseducation #kemitalkscelebrities #KemiOlunloyo
A post shared by Journalist Dr Kemi Olunloyo(@kemiolunloyo) on May 9, 2019 at 8:46am PDT
Meanwhile earlier yesterday, Kemi had noted that Davido is imperiling himself and his little girls by getting himself involved in the chaotic Osun State political drama including his uncle, Ademola Adeleke.
Recall that the Peoples Democratic Party's governorship candidate in the just concluded Osun election was detained in Abuja Monday night after he had honoured an invitation at the Force Headquarters. He was later arraigned on charges of certificate forgery at an Abuja magistrates' court on Tuesday, and then released on bail.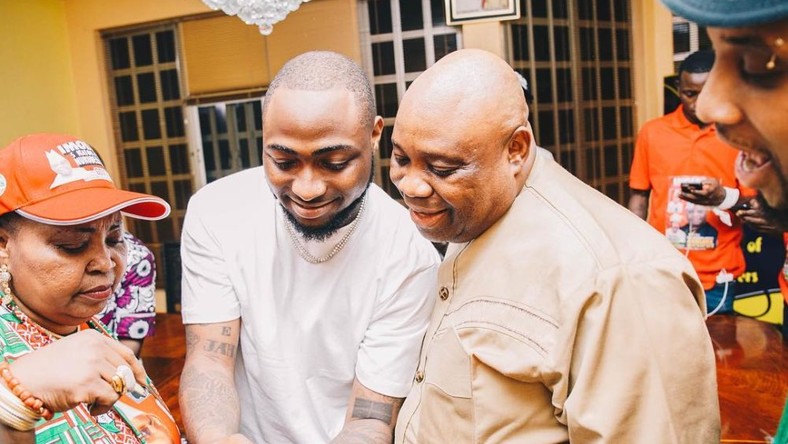 Davido celebrated his release on Instagram and also responded to folks warning him of the danger of getting himself mixed up in that messy political drama. And in his response, Davido said he is not afraid and will not stop speaking up for his family.
Well, Kemi Olunloyo thinks he is foolish.
"Those of u shouting that he should keep talking. Are you going to his funeral? You idiots Is Shina and BRed talking loud making threats on behalf of their dad? Is Deji Adeleke the brother and Davido's dad screaming? Only Davido has money abi? A boy, I repeat boy with no intelligence," she wrote.
She continued, "You saw what Hon elect Oloye Akin Alabi said the other day. Having a penis doesn't make you a father or even a man. We have an AGF Attorney General of Nigeria murdered in his Ibadan home, a sitting Head of State murdered in Aso Rock, even a Lawmaker killed here in Oyo state on Gubernatorial election day all not solved and Sugar's suspects about to be released. If they cut Davido or his family down, NOTHING WILL HAPPEN. Davido if you are reading, get very good security for your "official children" Hailey and Imade. You are compromising them. Being American or being in America means NOTHING. Buhari went to London to get a minister, Saudi agents to Turkey to kill a Journalist."
Source: dailyadvent.com