Abdulrasheed Bello, also known as JJC Skillz, the estranged husband of Nollywood actress Funke Akindele, has disclosed that he has converted to Islam.
This occurs months after the breakdown of his marriage to politician turned award-winning actress Funke Akindele.
JJC indicated that he was previously lost but has now been found in a series of photos on his verified Instagram account, and he confirmed this in an interview with an Islamic online publication, Muslims News, on Thursday.
Although his mother was a Christian, he claimed that he was actually born into an Islamic family.
"I was lost but now I'm found, O Allah, I ask You for pardon and well-being in this life and the next. O Allah, I ask You for pardon and well-being in my religious and worldly affairs, and my family and my wealth.

O Allah, veil my weaknesses and set at ease my dismay, and preserve me from the front and from behind and on my right and on my left and from above, and I take refuge with You lest I be swallowed up by the earth." He wrote on Instagram.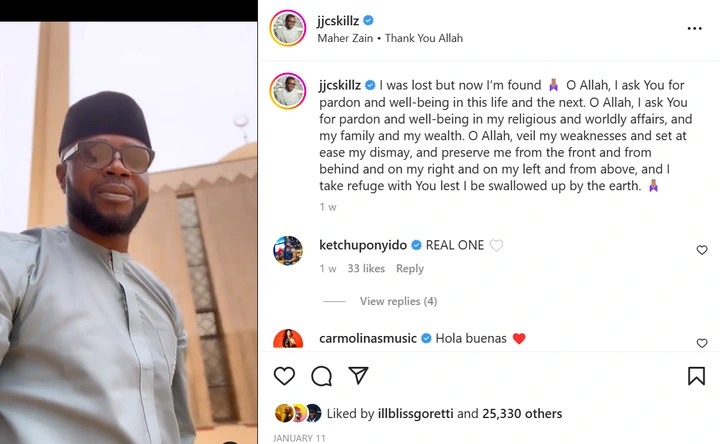 In another post, he wrote,
"Old things shall pass away and new things shall come our way. May Allah (SWT) continually do new things in our lives. I pray Allah (SWT) Light every path we follow, gives us the Wisdom & Guidance to every step we take, bless every decision we make, and make us excel in all aspect of life & grants us & our family Al-Jannah Firdausi. Ameen. Jumat Kareem."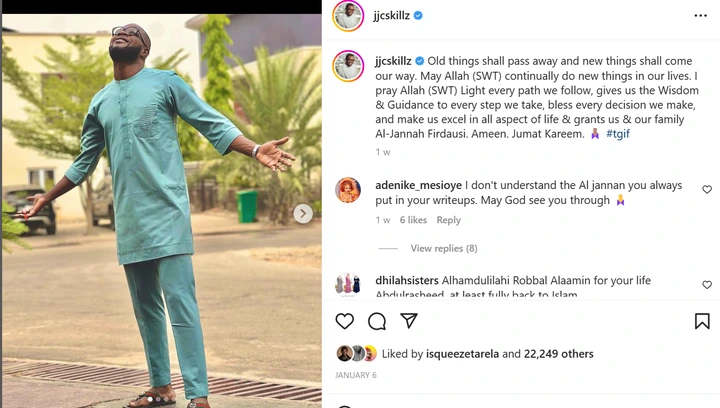 Speaking to Muslim News after the Instagram posts were shared, JJC said it was God's design for him to embrace Islam.
"I was born a Muslim – AbdurRasheed by name. My dad, Bello is a Muslim but my mum is a Christian. Back then I used to go Islamiyah but all I remembered about it was getting beaten. They used to scare us with hellfire so, I never practiced. It's God's design that I will return to Islam. I thank Allah for sparing my life. He said.
Related Video