At least four persons have shot and killed while one other sustained gunshot wounds when Boko Haram terrorists attacked Moranti village near Maiduguri on Saturday morning, a Civilian Joint Task Force source said. Sahara Reporters reveals.
In a rather unfortunate situation, the ravaging banditry attack on the Northern states of the federation, has sent many out of their homes, rendering mothers widows, and children orphans.
The activities of the bandits across those Northern states has caused severe havoc on the lives and properties of those who are living in those states.
The incident occurred at about 2am on Saturday at Moranti village behind 33 artillery barrack in Maiduguri, Konduga local government area of the state capital.
The CJTF source who participated in the rescue operations told Saharareporters that the attackers shot sporadically civilians, operated unhindered and escaped unchallenged.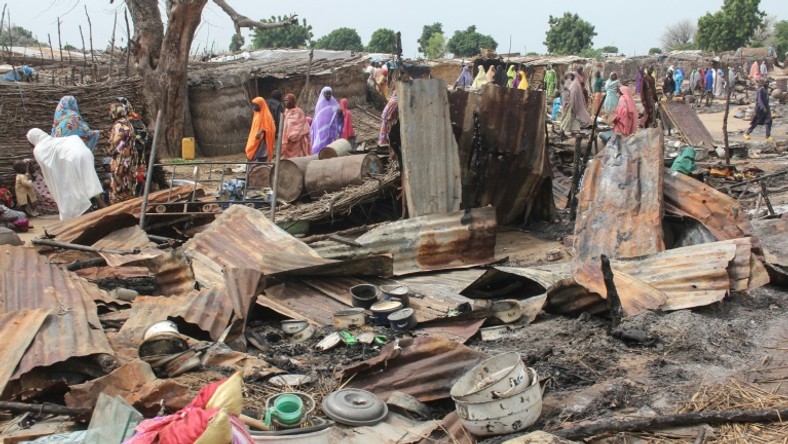 "We started hearing gunshots around 2am at our neighborhood, the suspected to be Boko Haram shot dead four persons, they were in the pool of blood when we got there. They rained bullets on them.
"Luckily, the fifth person survived the gunshot wounds, he was shot near his upper arm, he is now receiving treatment at State Specialist Hospital Maiduguri" the source added.
The Rescue team confirmed that 4 lost their lives and one person has referred to hospital for treatment. It would be recalled that on the 8th of May 2019, the Boko Haram insurgent groups attacked Molai, an ouskirts of Maiduguri, Sahara Reporters reports;
At least 11 persons have died including 4 soldiers and hundrends of houses torched when the Boko haram militants attacked outskirts of Maiduguri yesterday night,residents said.
The terrorists stormed in millity style convoys and attacked Molai on the outskirts of Maiduguri at about 6:30pm, killing 11 persons and injuring dozen others.
According to a member of the Civilian Joint Task Force domiciled in Molai, Mohammed Abdul said the attackers came with explosives and threw them into their houses. "We lost 11 persons in the attacks, 4 civilians in Molai and 7 others at check points including 4 soldiers.
"We dont know how many people are currently at hospital but many were wounded, we are still looking for our families now since last night, many are yet to reunite with their families." Abdul added. Another resident, Ali Umar told SaharaReporters that the fire was so enormorous and all their food items was set on fire after looting.
"The destruction is too much for us to bear, all our houses was burnt down and our shops looted as well burnt down. All the source of our livelihood is gone. We are helpless!
"It is unfortunate that the authority concerns are not doing much to protect us, the soldiers were telling us yesterday to run because they don't want to die. I think it is high time we stand up and face reality.
"We can't go beyond 5km from Molai without seeing Boko Haram and everytime we keep reporting to them (the army) but nothing was done about it."Ali told Saharareporters. A security source also confirmed that 4 soldiers lost their lives in the attacks.
The source said, "AOG vehicles loaded up with explosives probably joined a convoy from Damboa on getting to the vicinity of Molai rammed into special force (SF) vehicle. "4 soldiers were killed in the explosion excluding the bomber. No details on civilian casualties" he added.
SaharaReporters gathered that many houses were burnt down and wailling was all over the village from children to women, and many familes are still missing alive or dead.
Source: Sahara Repoters