Nigerians are divided with opinions, in reactions to the latest move by the new Imo Governor, Emeka Ihedioha, after he began demolishing projects executed by the immediate past administration of Rochas Okorocha.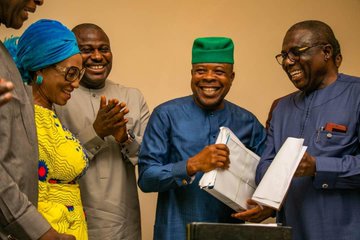 Some people have labeled him foolish for this latest move; while other are of the opinion that the new governor is wicked.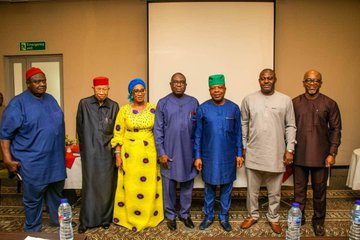 Barely 24 hours after Emeka Ihedioha was sworn-in as governor of Imo State, he has performed his first assignment: demolition of the Akachi Tower located on Naze road, Owerri. The tower was built by the immediate past governor of the state, Rochas Okorocha.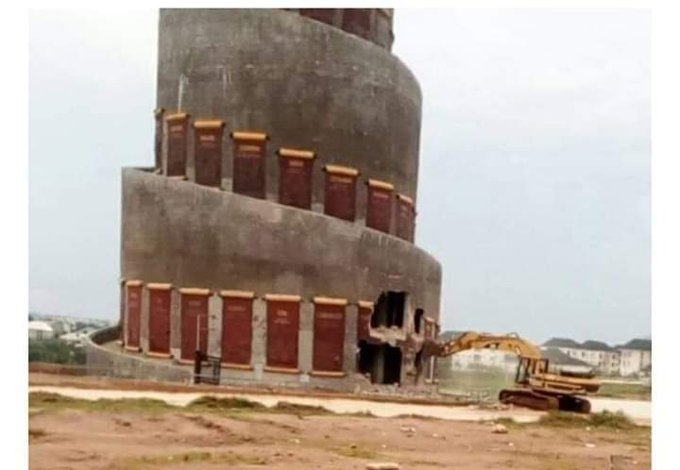 Heavily-armed security agents including the military barricaded the sight, preventing even journalists from getting closer.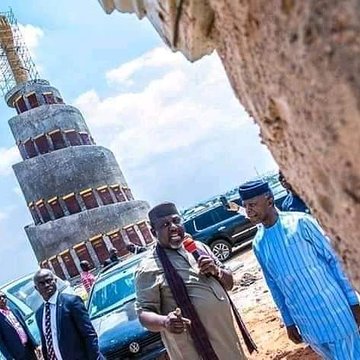 The Akachi Tower, measuring over 40 feet according to Okorocha symbolises the hand of God over Imo State. The monument was also meant to serve as tourists' site.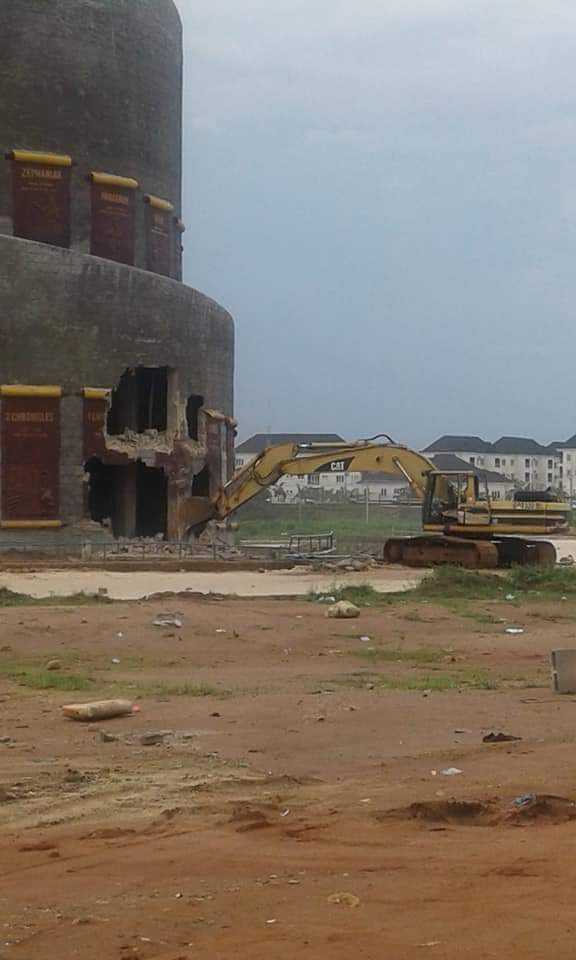 Meanwhile, enthusiastic supporters of Governor Ihedioha who waited endlessly at the front gate of the Government House on Wednesday after the swearing-in ceremony at the stadium to see him perform his first duty were all disappointed as he chose to go else were from there.
See reactions from Nigerians
Many of our Politicians re like that.
Old Friend served in that State, saw the Speaker of the HA at the time..Said he's never seen anyone that proud, all his life up to that time..as in the pride was dripping..!
A decade & half later he can't remember d incident without a laugh..

— Jesugbemi (@gbemmygbenga) May 30, 2019
Lol. Tower of Babel. Subtle reminder that power transient. Invest in building the people. If this was what Rochas had hoped will be his legacy, well… Bad rubbish. I hope after this demolition exercise, this one with his ridiculous cap will concentrate on what will lift the ppl.
— Chuck D (@Cyrax60) May 30, 2019
Sanwo Olu:An E.O to prevent indiscriminate trash dumping on roads & gutters, prevent floodin & help clear traffic. That signing today didn't cost money.

Ihedioha: Start Demolition of all monuments built by d past Gov, Spending millions to destroy d millions already 'wasted'

— Jesugbemi (@gbemmygbenga) May 30, 2019
This is not necessary now, the monuments have being paid for already from the people's purse

— FOR A GREATER NAIJA (@jidecole20) May 30, 2019
This is not the proper thing to do now..Wasting already down resources of the state is not good..

— OKOYE AFAMEFUNA (@real_afam) May 30, 2019
Definitely not necessary! I knew from the get-go that Ihedioha is a such a typical politician with nothing to offer!

Why demolish!!

— Obaro™ (@0bar0) May 30, 2019
That guy really goofed, this is state resources not Okorocha he should have beautify it more and that place will be an attraction centre on its own.

— just trying to become whom i have wished to be (@domchael1) May 30, 2019
Waste of money. He should have used it for something lucrative for the state

— abdul m.m (@abdulmm3) May 30, 2019
What a shame!! But were those monuments built with Okorochas money?? This new govt should rise above pettiness and show some higher thinking!! Why waste resources to demolish what was built with state resources? Highest,rename them!!

— Nwachukwu Emeka (@nwachukwum) May 30, 2019
Dear @EmekaIhedioha
Congrats on your swearing in.
Providing jobs, security of lives and properties for your people should be your priority
Monuments are not important part of governance
Mistakes made by your predecessor shouldn't be prioritised above the needs of Imo people.
— this-Mr-T (@thatMrT) May 30, 2019
Okorocha monuments are fine just put finishing touches that's all…..is he on a revenge mission ?

— Edmond-okafor Onyeka (@OkaforEdmond) May 30, 2019
Power is intoxicating.
The show is about to start.
Grab a seat guys.
It is going to be interesting.
— ChelseaFC (@DaddyChelsea) May 30, 2019
Wasting another state resources. They are our problem. They won't continue from where the previous administration stop but want to take their own glory

— Abiola Terry (@terry_abiola) May 30, 2019
Source: dailyadvent