Former Ekiti State Governor Ayo Fayose has resigned from the Peoples Democratic Party, the main opposition party (PDP).
On yesterday's ARISE News, Fayose made the announcement that he was leaving the PDP. Under the PDP ticket, Fayose presided over Ekiti State from 2003 to 2007 and then again from 2011 to 2015.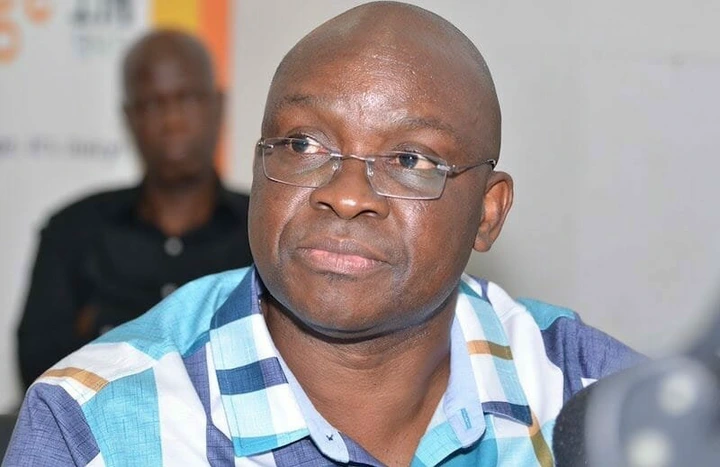 Yet, it appears that his decision to leave the party was motivated by what he perceives to be irreconcilable differences within the PDP, which he alleges have split the party.
He said: "Let me say this, from today(yesterday) I stay off PDP. In party politics there are certain facts you must be able to speak. I am 62 and I can't, at this age, begin lying. When something is wrong with your family, confess."
The former governor, who claimed to have fought for the interest of the party over the years, blamed the loss of the PDP in the presidential election on the leadership of the party.
Fayose traced the problem of the PDP to the North-west zonal congress which he said was rigged against Rabiu Kwankwaso in favour of Aminu Tambuwal that led to the latter leaving the party.
"I warned Atiku that the problem will consume PDP. I told him there was danger ahead," he said, adding that the G-5 governors demanded that Atiku make an official announcement to run for only one term and hand over to any member in the south but "Ayu was leading Atiku to Golgotha."
Fayose warned Labour Party's candidate and second runner up in the presidential polls, Peter Obi to "run away from the PDP" as the current ovation for the opposition has nothing to do with the PDP.
According to him, if the PDP had believed in Obi, they should have given him the party's ticket.
He saluted Obi's courage for being able to defeat the likes of Tinubu in Lagos, describing him as "A phenomenon" and "the man of the moment", stressing that Obi's victory in Lagos has proved that things are no longer the same.
He argued that for Obi to win in Lagos shows the process was so transparent and as such the outcome of the election should be accepted by all.
Related Video