The sexy actress had a bad breakup with Nigerian rapper, Iceberg Slim in 2018 seemed have to moved on with her life and was having a good time until her ex threw a huge shade at her on his instastory, a hilarious shade but a shade all the same.
Juliet Ibrahim in several posts on her Insta-stories indirectly referred to Iceberg Slim as "a cu*t", "low key stupid" and a "lion a*s" dude. The mother of one posted; "This could be us but you're a cu*t", "This could be us but you low key stupid", "This could be us but I'm not a f** dummy".
In another subtle post, Juliet Ibrahim called Iceberg Slim a liar and warned him to shut up else she'll "bite" ─ to wit, spill up some deep secrets about him.
Check out her post below…
Before that, Iceberg Slim went on his social media page to start the fight. He posted about his ex, Ghanaian actress Juliet Ibrahim.
Iceberg Slim funnily posted; "This Could Be Us But You're a CHEETAH."
This comes right after earlier today revealed she lost her virginity at the age of 30 during a question and answer session on her InstaStory.
Finally, Ghanaian actress, Juliet Ibrahim has opened up her romantic relationship breakup with Nigerian rapper, Iceberg Slim after being 'drilled' for over a year by Opana Slim.
Juliet Ibrahim in an interview with Joy News' MzGee disclosed that she and Iceberg broke up on mutual agreement ─meaning Juliet and her ex-boo's relationship was based on some contract? Interesting!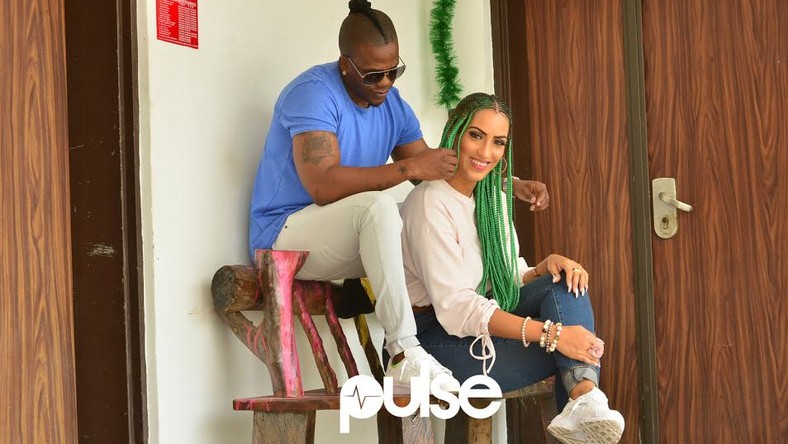 On the question of whether the breakup came about as a result of Iceberg Slim cheating on her, the modern-day barbie stated that she wouldn't disclose what actually led to their sudden breakup for the respect she has for Iceberg Slim.
"When You Are In Love You Do Crazy Things" Juliet Ibrahim Confirms Break Up With Iceberg Slim • • Juliet Ibrahim has boldly stated that she's now single, confirming that her relationship with Nigerian singer, Iceberg Slim has ended. The actress says she was the one who walked away with the "lo" from the relationship leaving the "ve" on Iceberg. Auntie Julie also mentioned that her friends are witnesses and knew what happened but she won't spill it out. She was speaking to Joy News' Mz Gee after a Glo concert she hosted in Accra [Press Play] The actress and the singer, who even kiss on live Tv shared an "LO VE" tattoo which was the actress' first ever tattoo she ever had. Probably, some of the crazy things she did but has no regret for it. ______


Source: Ghanacelebrities.com/ Yabaleftonline.com