There are plenty of women who get pregnant without marriage. As they say, different strokes for different folks. Sometimes it happens on purpose, but many times it doesn't. It seems that cultural and religious views of marriage before pregnancy are no longer valid for a lot of people. Traditionally, marriage comes before pregnancy but in recent times, there seems to be a turn in the tide as people appear to have made a shift to pregnancy before their marriage. In fact, it seems that "untraditional" ways of bringing children into the world are becoming the norm.
Perhaps those experiencing pre-marriage pregnancy don't believe in marriage itself, they don't have a person they want to marry, or they believe that having a child trumps all of that. Perhaps today, they believe they can do it themselves because they have the education, money, and support system to do so. Nigerian celebrities aren't left out of this madness that has engulfed the society and one of those is talented singer, Davido and a rumuor filtering through the internet about his love life is causing a huge commotion on social media.
Davido has one of the most admired relationships around town but what do we know about it? Well, the buzz started after he showed off Chioma Avril Rowland as his girlfriend for over 5 years. According to reports, Davido met her while he was still an undergraduate at Babcock University. What that meant was that Chioma had been in the background all the while, even when Davido was affiliated to Sophia Momodu and Amanda which eventually resulted in the birth of Davido's two daughters. In no time, they became the topic of gossips for the singer's fans after he propelled their relationship off the secret to the public. Ever since he introduced her to the world in 2018, his fans have been all about their love and connection.
Davido had announced his relationship with Chioma to the world by buying her a Porsche as her birthday gift on Monday, April 30, 2018, and also releasing a song titled 'Assurance' dedicated to her. Davido and Chioma have won the hearts of fans with their love story, and they have managed to stay in people's hearts due to their constant presence as a couple on Instagram. The lovebirds are always seen taking beautiful photos together and having fun on vacations with friends. Davido is usually seen showing his love to Chioma by spoiling her with expensive gifts as they go on shopping sprees in different countries and often in matching outfits. He has also taken Chioma to meet some high profile Nigerians such as Atiku Abubakar, the Ooni of ife, his family members and some other celebrities. I mean, what else can a girl ask for?
Well, the latest rumor is that Davido is said to be getting ready to be a father again! The Omo Baba Olowo has been reported to have put his celebrity girlfriend in the family way. Womb-watchers claimed that the couple are expecting their first child together since they went public with their relationship in 2017. In a video recently trending on social media, Chioma was seen with a bigger belly and bigger mammary glands which they suggest indicate that she is already in the family way. The video shows both Davido and Chioma sharing a seat together. The womb-watchers also claimed that the pregnancy was the reason behind Chioma's absence in public glare. If truly Chioma is pregnant as being claimed, this will be the singer's third child from a third woman.View this post on Instagram
#Davido and #Chioma allegedly expecting their first child together
A post shared by Instablog9ja (@instablog9ja) on May 31, 2019 at 10:46am PDT
If this rumour turns out to be true, then it means Chioma will have entered the baby mama cycle and joined the likes of Annie Idibia, who had her first child for legendary singer, Tuface Idibia. before luck smiled her way and they ended up getting married, and Nollywood sweetheart, Genevieve Nnaji, who had her first kid in her teenage years and is still unmarried. This is the longest relationship known to the public that the star has ever had. This could be as a result of the fact that the singer always flaunts his relationship with Chioma on social media.
Let us not also forget that Davido has also been linked to having a child with a lady in Ibadan after a reported one night stand and has issues with protected s*x. Even though he recently revealed that he wants to spend the rest of his life with chioma, she shouldn't get knocked up before he fulfills that plan for her. NO! She needs to break this crazy cycle. Chioma Rowland will be a martyr and a huge role model for girlfriends of celebrities and women in general if she can prove Nigerians wrong by waiting till she is officially married before getting pregnant.
Let us not kid ourselves. Pregnancy before marriage is totally unacceptable as the disadvantages supersedes the advantages. As Nigerians, there are principles that guide one's way of life, ranging from ethical, socio-cultural and even religious beliefs. We are Nigerians; whatever it is we do, there are factors that determine who we are and what we are. We pay a lot of attention to our tribal values, religious beliefs; and these things, whether we like them or not, form a huge part of who we are. Why are people now trying to justify pregnancy before marriage? Is it because they want to test the fertility of their partners? If yes, then it is from a selfish point of view.
People try to justify their positions of getting pregnant before getting married. The first thing you need is to ask myself how you would feel if someone does this to your sister or daughter. It wouldn't fly with you because it puts the guy in control of the position. He can do and undo. In such situation, the man becomes the deciding factor. Getting pregnant before marriage isn't usually the truth in most cases. The term 'get pregnant before marriage' has become one of the most used terms in the book now. There is no way you would get pregnant without s&x; so, it is a way of legalising s&x before marriage. When you consider the statistics, you will discover that something usually happens along the line. How many of them really get to the end point of getting married? It is really too much a risk to take.
The religious and cultural beliefs of such consummation is something Nigeria's cultural and religion frowns against. There is a religious aspect which totally frowns on it. There is also a tribal side to it. Although it is difficult to judge based on all the tribes that we have in Nigeria, we can infer from the three major three tribes in the country – Hausa, Yoruba and Igbo, they all frown on it. Pregnancy before marriage is not proper and can be likened to putting the cart before the horse. You are not married until you get married. Getting pregnant before marriage is one of the ways men now deceive ladies for s&x. In fact, some young men nowadays merely propose to ladies just to have s&x with them. I hope that doesn't become the case for Chioma.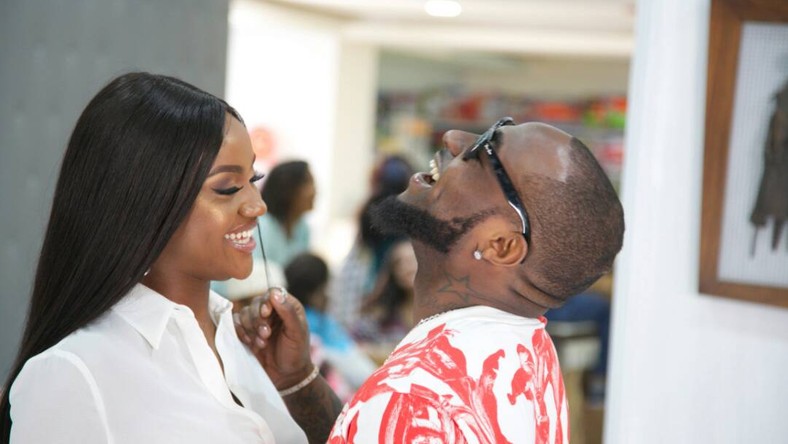 What people are expecting at this moment is the day Davido will go on one knee and ask Chioma that very important question, "Will you marry me?" and then she'll reply with a resounding "Yes I will." We are sure the traditional marriage and white wedding between these two lovebirds will be a lovely sight to behold.
Most importantly, this will break the baby mama/ baby daddy cycle that has become a menace in the society.
Dailyadvent.com