The artist Flavour's baby mom, Anna Banner, claims that being a single mother is not a "sickness."
The music producer Soso Soberekon posted something on Instagram on Saturday, and the beauty queen and pageant winner was responding to it.
The music executive had encouraged people to stop demeaning single mothers on Friday.
Many of them, he added, "are good ladies who got into the wrong hands."
The majority of single mothers are good, faithful women; they just get caught up in the wrong men's schemes, he wrote. "Stop adding pain to single mothers.
Reacting to the post via her Instastory, Banner lamented the struggles and stigma associated with being a single mum.
The model also claimed that single mums also experience "discrimination from most brands."
"No one talks about the stigma that comes with being a single mom! It's quite sad. People judge you before meeting you," she wrote.
"Being a single mom is not a disease my dear. Single mums also experience discrimination from most brands! YES! I said it!"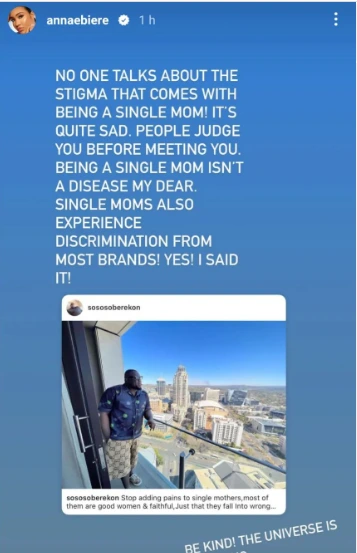 Related Video