A 23-year-old lady identified as Efezino Patrick has every reason to thank God after she miraculously overcame a strange illness that she has been battling since she was 13.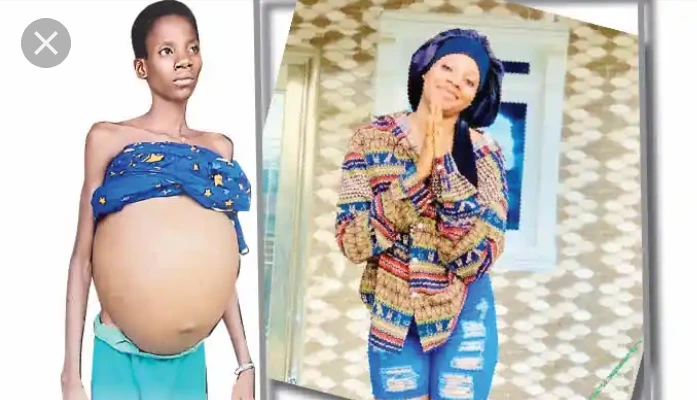 The young lady, who hails from the Agbarha Otor community, Ughelli, Delta State, narrated her ordeal with the strange illness to Punch Newspaper. According to her, the whole issue started in March 2013 when she felt an excruciating pain in her stomach. When she told her mother about the pain, Efezino said that her mother told her that maybe she was about to see her menses. However, she said that the pain refused to go away until she bought some drugs from a pharmacy, which subsided the pain and allowed her to sleep.
The young lady further revealed that when she woke up the next day, her stomach was hard and began protruding like someone pregnant. She added that her mother rushed her to the hospital for a medical examination but that nothing was detected. The doctor then gave them some drugs and advised her mother to take her to religious houses.
The 23-year-old woman said that when her mother took her to a native home, the spiritualist told her that she was poisoned by a relative. At first, the mother doubted because the victim was just 13 years old. However, she later recalled that a pastor once told her to be careful because there was a plan to poison the victim and destroy her destiny.
Efezino went further to narrate how one spiritualist they visited told her that she was a witch and that she should confess. She also revealed how she was stigmatized by her former classmates and her father. She added that another native doctor told her to drink her urine daily, but it didn't work despite following his prescription religiously for six months. She also revealed how another spiritualist used dog feces and alcohol to make a concoction for her, but it still didn't work.
Note: This photo is for illustrative purposes.
After spending a large amount of money and visiting several places to get a cure, God miraculously located Efezino. She said that one day, she felt a sharp pain in her stomach and started bleeding. She later realized that it was her menstrual cycle, which she had never experienced since the strange illness started. Sensing that her cure was near, she went for a scan in a hospital, but this time something looking like a rock was found inside her stomach. She was then scheduled for a procedure. The lady revealed that she had to pay the sum of N250,000 and that the procedure was successful.
Though Efezina has scars and folds on her tummy, she said that her boyfriend loves her like that and is proud of her. She also revealed her plans to register for WASSCE next year.
Related video