After taking her own life, a young Nigerian woman left a suicide note on Facebook.
Adaeze Regina Okoh has been recognized as the woman.
The lady claims that her family has deceived her and that she has never felt true happiness in her life.
According to reports, the young lady sent a heartfelt suicide note on Facebook, notifying her family and friends that she was about to commit suicide.
According to the lady, her family have betrayed her, adding that she has not known true happiness all her life.
Although the young lady did not mention the main problem that might have thrown her into depression in her suicide note.
However, 9 hours later, a cousin to the deceased posted on her timeline that she hurriedly rushed to her place when she saw the Facebook post but her door was locked.
According to her, she called some of the young men around to help her break the door, they broke the door and saw her lifeless on her bed. She said they rushed her to the hospital but she was confirmed dead on arrival.
Regina's cousin isn't buying the suicide story, she is however, alleging that someone might have killed her and makes it look like a suicide.
She said the incident have been reported to the police, she vowed that the family must "get to the root of the this"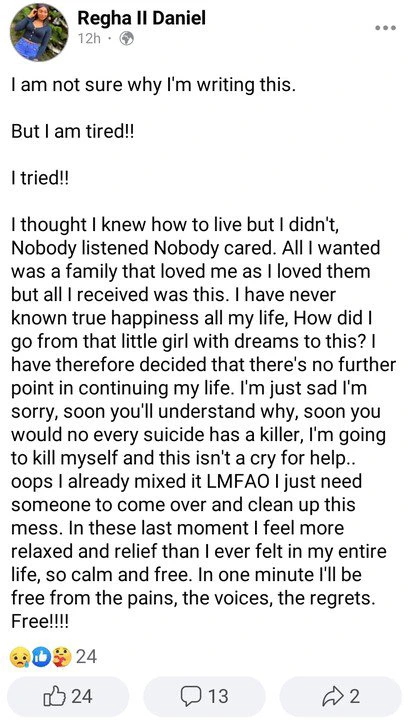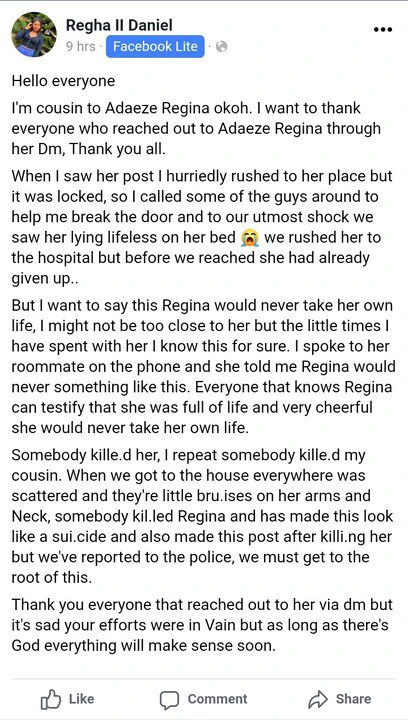 Related Video