Imo State University student celebrated the inauguration of his second university hostel small business with a bang.
In 2021, Ezidiukwu Chinemerem Prosper became famous for turning his hostel room into a mini-store.
His off-campus hotel, which he built in his 300 level, sells commodities that students consume.
Imo State University undergraduate Ezidiukwu Chinemerem Prosper has announced the opening of his second off-campus housing small store.
On Facebook, the student entrepreneur congratulated himself on his accomplishment, claiming that he plans to put data and POS businesses into it to increase productivity.
productivity.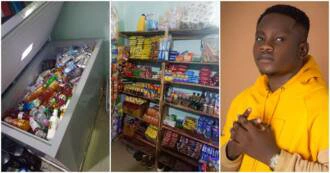 He just got started
The young man hinted at opening more outlets as he said the new mini store is not the final one but just a start.
He elatedly revealed that he had already made new customers at his second mini store.
Prosper's post reads:
"I launched my second university hostel-based mini-mart yesterday.
"This isn't the final look but a start. I intend incorporating my data business and also a POS to boost productivity.
"I've already started making new customers here – it doesn't feel new. I'm so happy."
Related Video